Book Major Mom to Present At Your Next Event
Major Mom's Valuable Message
If you live in a cluttered home or work from a disorganized office, your mind is distracted from the important things in life:
Spending quality time with your family
Taking care of yourself
Managing your money
Growing your business
Angela Cody-Rouget, founder and owner of Major Mom, is a power house speaker that commands respect and laughter! She is so authentic and unique, yet very personable and easy to relate to. If you hire Major Mom, she will teach you the major impacts of clutter and disorganization; the major roadblocks to getting organized; the "Secret Weapon" to getting organized and staying that way. You will also gain insight and awareness about what's blocking you from having a peaceful home and thriving business. Angela walks her talk and she is ready to teach her walk as you will learn strategies and techniques to declutter your brain, home and office. You will be inspired and motivated to tackle that organizing project you may have been putting off.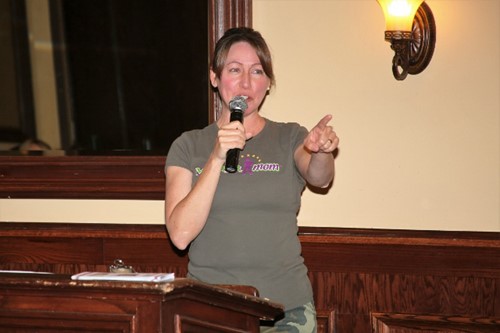 Speaking Missions Accomplished
Not For Profit Organizations
SBA Reboot
Colorado Women's Chamber of Commerce
Northwest Christian School
SBDC 6th Annual Veterans Conference - Tucson
SBA Veteran's Conference
Luke AFB Boots to Business
ANG Boots to Business
Southeast Christian School
PCTO - Cherry Hills Elementary
Hearts Homeschoolers
Colorado Associaton of Activity Professionals
Society of Women Engineers
Young Professionals Organization
Evergreen Women in Business
Parent Teacher Organizations
Cherry Creek Women Business Network
Colorado County Attorney's Association - 2011, 2013 Winter Conferences
Douglas Elbert County Realtors Assoc.
Sales Professionals International - 4 Chapters
Trilogy Women's Group
Colorado Free University
Women In Business - Aurora Chamber
Word of Life Christian Center - 8 times
Pikes Peak Christian Church
Parker Middle School
Moms of Preschoolers (MOPS)- 26 Groups
P.E.O.International
Mommy Meeting
Momtreprenuers of Boulder
Mothers & More
Sertoma - 3 Clubs
Lions Clubs - 3 Clubs
Kiwanis Clubs - 3 Clubs
Optomist Clubs - 5 Clubs
Rotary Clubs - 8 Clubs
Women In Temple of Sinai
South Metro Denver Chamber of Commerce
Colorado Financial Executives Networking Group
Ladies Who Lunch
Grand Connect Women's Group
For Profit Organizations
Vision Is Victory Conference
CEO Space - Colorado Clubs, Utah Clubs
Whipplewood CPA
Berthoud Athletic Club - Twice
I Take The Lead - 4 Groups
Women, Wine and Wellness
Global Referral Groups - 6 Groups
SPEAKING TESTIMONIALS
"Thank you for speaking this morning at the Sales Professionals meeting. Everyone loved your presentation because it was done with enthusiasm and because you are obviously an expert at organizing!" --M.O., Former Marine Corps Captain
"Everyone loved your presentation at our meeting! What a great service you provide." --Program Director,Women of Evergreen Businesses
"Thank you so much for your willingness to present at the CAPA Conference! By sharing your knowledge & expertise, you have contributed to the professional growth of our members and in turn, have helped to improve the lives of those living in long-term care! Thank you!" --CAPA Membership Chair
"Thank you so much for coming to speak to our group! You are such an energetic, funny speaker! I know you inspired a lot of us to get organized! Thank you for all of us at MOPS!" --MOPS Program Coordinator
 "Spring had finally arrived and it was time for me to put away and protect my winter clothes (moths!) and pull out all of the warm weather clothes. Since I had just attended one of Angela's fabulous presentations on getting organized, I found myself inclined to finally let go of those things (oh, but I bought that in Paris!) that no longer fit me or fit today's style. Once I started following her tips, the closet started looking so good that I actually went through everything. I feel so inspired now when I get dressed, and it didn't involve going out to buy anything new!" --Anna Meck, Society of Women Engineers Programs CoChair
"On behalf of the Paralegal Board of the Colorado County Attorneys Association, we want to thank you for your presentation to our group on "Major Mom's Office Organizing Services." I would like to share some of the comments generated by your presentation. The audience thought your presentation was excellent, energizing, motivating and informational. The attendees loved the energy level and thought you were very well informed on this topic and felt inspired to take back to their counties some helpful information to those who could not attend the conference. They noted that your presentation went smoothly and appreciated the confidence that you instilled in the audience regarding Major Mom methods of organization. Again, we appreciate your hard work and assistance in making the program educational and pertinent to our continued advancement and we hope that you would consider a return engagement in the future. Thanks again and hope to see you soon." --Theresa Johnson, CCAA Paralegal Board Member-2011
"A big thank you to Angela for sharing her knowledge with our group of CPAs! Her energy and passion inspired us to not only organize our own space, but also that of our clients. The presentation was very engaging, even for a group of accountants, so that's saying something! Some of the tips she shared are so easy, that you'd be silly not to implement them. Here's to an organized and efficient tax season! Thanks for helping us kick it off on the right foot Major Mom! And I mean every word of it." --Amy Welnak, Whipplewood CPAs
"Recently we had Angela speak at a joint URS and Society of Women Engineers meeting. Everyone was very inspired and entertained. Major Mom is a great speaker, very easy to work with and punctual. I highly recommend her for any corporate event you may be hosting." --Jessica, Program Chair
"We had Major Mom, Angela Cody-Rouget, come to our Westminster Rotary Club weekly meeting on February 3rd, 2011 and give her presentation about professional organization services. Angela educated our club to the hazards of having a cluttered existence and ways to remedy such an existence. Her presentation is very entertaining and humurous. She shared stories from her past and how she came to be a professional organizer. The presentation gave very valuable information for people on both a professional and personal level.I know our club enjoyed the presentation and would highly recommend Angela to other clubs and organizations as a speaker. Having her come and share with you will be worth your time." --John Zerwin Westminster Rotary Club, President-Elect and Program Chair
"I had the pleasure of being in the audience when Angela Cody-Rouget with Major Mom gave a talk on "Clutter Clogs Your Cash Flow: Is Your Cash Not Flowing?". Angela is a dynamic and high energy event speaker. She fully engages and entertains the audience with insightful ways to organize and energize your life that you can put into motion immediately. If you are looking for a top notch speaker who can inspire your organization, club or team, Angela is a master at creating an exciting and motivating atmosphere for your next event!" --Gina Kaelin-Westcott, President, High Achievers Sales Coaching
"Angela Cody-Rouget is one of my favorite speakers. Every time Angela and her troops arrive to share their helpful tips from the clipboard, I know that I am in for a wealth of information and inspiration. Angela is one of the most sincere speakers I have heard. Angela is able to convey compassion and vision for her audience, and her talks are as simple to follow as the Major Mom 3-step plan. Angela is not only a great organizer, she is a great speaker as well." --Angel Tuccy, Owner, Experience Pros Radio Show Host and Best-selling Author
"Thanks again for a very exciting and engaging presentation. Yes, as we discussed, I was very pleasantly surprised!I perceived that your presentation resonated very well with all attendees. This was particularly apparent through the number and nature of questions at the end during the Q&A session!
Thanks to all. I was pleasantly surprised and very much enjoyed my evening." --Gregory Tripple, Colorado FENG Chairman
"Thank you so much for donating your time to our women's wellness event. You were absolutely inspiring and we've gotten lots of positive feedback about your presentation! Your keynote speech was the perfect completion to our day and we so appreciate you." --Jody, Women in Temple
"Angela is a comfortable speaker with much to share, not just about organizing, but about family life, business productivity, and personal development and motivation. Her talks themselves are clear, organized, informative, and uplifting." --Anthony Sanchez, Marketing Visioneer
"Angela is an inspiring presenter. Her values come through loud and clear. Since she has military background, I mean CLEAR. She pulls no punches when it comes to delivering a compelling, actionable message. I'd listen to Major Mom over and over again."  --Martin R. Koenig,Founder and CEO, CxO To Go, Dean of the University of Entrepreneur
"Angela packs in a ton of value for her audience! She's clear, precise, and "in-tune" with what the crowd wants to hear. I've heard her speak several times, and it just keeps getting better and better!" --Thomas Moviel, The Chief Catalyst
 "We are so grateful for your words of wisdom as a Major Mom! Thank you for joining us at our MOPS group and inspiring us to take action. You enlightened us all...THANK YOU!" --Moms from MOPS
"Thank you very much for speaking today to our Kiwanis Club of the Golden Nuggets. I enjoyed your presentation today and I learned a lot about organizing. I admire the enthusiasm and passion that you displayed. Your style really engaged our group. I had not thought about the various costs involved in having so much stuff. I appreciate your points about energy savings and time savings in organizing my home. I also appreciated your thoughts on how a cluttered house can be a safety hazard in an emergency situation. Also, I appreciated your ideas on how to get started de-cluttering. Thanks again for teaching us today about the importance of being organized and how we can start." --Rogers Coke, Kiwanis Club of the Golden Nuggets
 "Angela speaks with strong passion and confidence both in the classroom and on stage. Her messaging and delivery is consistently bold and powerful." --Mandy Pinkston, Founding Partner, Major Mom
"I wanted to extend a very heart felt thank you to you for speaking at our 2013 winter conference. We received so many kudos for having Major Mom back once again to speak to our paralegal group. Your presentations are always informational and inspiring! One paralegal commented on Monday morning that " Angela would be proud of me because I went home from the conference so inspired that I cleaned out my clothes closet, bag up stuff I haven't worn for years and took it all to Goodwill"!!! She also stated that she made a list of similar projects to work on this winter." --Theresa Johnson, CCAA Paralegal Board Member
"Thank you so much for speaking to middle school student leadership last week. You gave practical advice and helpful suggestions, and several of the kids went home and cleaned out their rooms! I am sure there are several parents who would love to thank you." --T. Loy, SECS
"Thank you so much for coming to speak to the middle school student leadership team. I never knew how many values organizing applies to your life. I really liked how your inspired me to go home and organize my room. I aslo like how you were so willing to help people with their problems on the spot. I really appreciated your talk. Thank you so much!" --Student