Freshen Up Your Laundry Space
back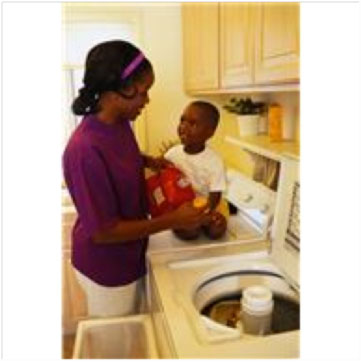 Oftentimes the laundry room is expected to deliver more than it can provide. The home layout can have the laundry as a mudroom or a main entry into the home from the garage. It ends up being a catch-all or a place to stash items when guests come over. Even if the laundry is in the hallway, bathroom, or the basement, we find ways to stuff more than it can handle in its limited space. Therefore, it ends up having way too many demands on the room.
Here are some tips to organize your laundry room or area:
Simplify. Take a good look at what is happening in your space. If possible, remove some of the responsibilities of the room.
Keep only what you use and love in the area. If you have products you no longer use taking up your space, it adds to the frustration of laundering your clothes. For example, if you no longer use a certain detergent because your kids are not babies, move it out.  
Use the walls or doors, not the floors. Consider alternative solutions to utilize your space rather than piling up on top of machines or on the floor. An iron caddy is great for storing your ironing board and related supplies. Small rolling carts can hold detergents. *See products to know about.
Have a trash can as close as possible. This is handy when emptying pockets to go in the laundry as well as removing lint from the dryer. 
Use a timer. Have you ever completely forgotten about a load in the washer or dryer? Set an alarm or timer to remind you to get back to your responsibilities. 
Use charts, lists, & schedules. Develop a reminder system so all members of the household have directions on how to run the machines, sort clothes, remove stains etc. Customize it for your household. 
Brighten it up. Make sure your area has proper lighting. Paint a wall. Hang a picture. Place a soft mat on the floor.