Meet Your Liberator: Angela Cody-Rouget
back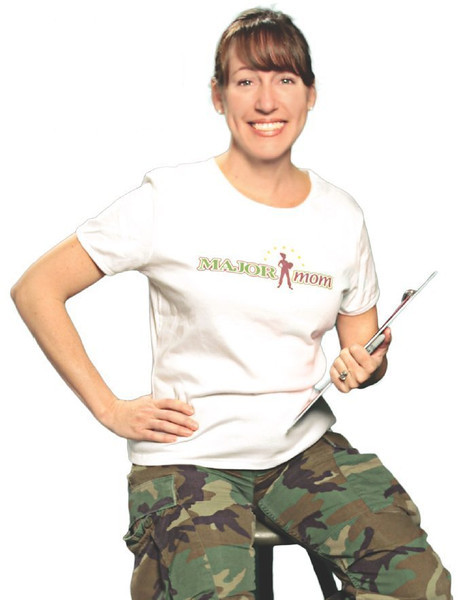 This month, we are introducing a fun new feature, "Meet Your Liberator." We know it can be a scary prospect to invite someone new into your home, so we will regularly feature light-hearted profiles of the Major Organizer Liberators to help you go behind the camo and meet the people who have liberated more than 1,000 households in Colorado and Arizona!
It is fitting that we start with the Major Mom herself, Angela Cody-Rouget. Most of you know her story - Angela was a Major in the Air Force, until she made the decision to stay home with her growing family. The idea for Major Organizers came when she saw how isolated and chaotic a stay-at-home parent's life and home can feel, and she knew that she could help.
Major Organizers promises to make organizing fun. Can you share a funny personal organizing story? 
My family and I consistently struggle finding a home for pajamas that have been worn, but are not yet ready for the laundry! After all these years, it is the one category we can't nail down. Everyone keeps them in a different place - the kids keep theirs either on the floor or under their pillows. I keep mine on a shelf. We've tried lots of solutions - hooks, drawers, you name it. Once, out of frustration, I even made labels for shelves that read "Not dirty - too lazy to hang up." The lesson from the pajama saga is that I've learned to release the need for everyone to do everything the same way. Oh, and I limit the number of PJs each family member has - two for summer, two for winter. That way, at least it's only two pairs of pajamas balled up on a shelf, not seven!
Who are your inspirations? Where do you find inspiration?
Jesus is my #1 source of inspiration. One of my favorite books is "Jesus, CEO" as well as others about being a servant leader. It may sound cliche, but I do ask myself "What would Jesus do?" in challenging situations.
I am also inspired by Mary Kay Ash, founder of Mary Kay Cosmetics. I was never a Mary Kay representative or had the chance to meet her, but I really love her drive and I'm so inspired by her business model of creating opportunities for women. 
When you are not organizing, what is your favorite family activity? 
Travelling is the top of the list! I love anything is adventurous - going to do/see new things. We love to take road trips as a family. My favorite was our road trip from Denver to the Outer Banks in North Carolina. And you may not believe this, but I like to travel without a schedule or plan. We just go where the road leads us, and we usually end up getting the last room, or catching the last ferry. Because our life is structured and planned most of the time, having no plan is exhilarating. It's all part of the adventure! 

When you need to relax or unwind, what's your favorite guilty pleasure?
Watching a movie! I love a sweet story. "Beaches" is one of my all-time favorite movies.
What would people be surprised to learn about you? 
I love to dance! I'm not a trained dancer and my moves are not choreographed, but I love to dance for fun! Put on some 80s music or start up the line dancing and I can get the party started!
What is the best organizing tip you've learned from a client?
Until I organized for a living, I never used separate bins for sorting laundry, I simply sorted on the floor.  Now, inspired by a client project, I use a system of a command hook + fishnet bag for collecting dirty cleaning rags. It's a simple solution for keeping wet rags off the floor and preventing mold. It may seem little, but it's a little change that brings me great pleasure every time I use it!