Meet Your Liberator: Wendy Ahrens
back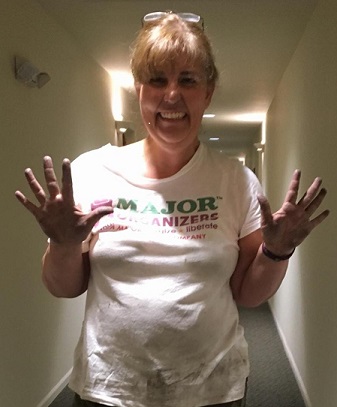 Certified Professional Organizer and Liberator Wendy Ahrens is a whiz at decluttering and storage solutions, but did you know that she's also a whiz at pop culture? Read on to learn more about Wendy, including what snakes have to do with her current organizing project.
How did you start organizing?
I was always organized as a child. My early memories include organizing my bedroom and organizing for family members.  I became interested in organizing as a profession in 2010 when I saw a professional organizer on Oprah. I remember thinking "Wow! How do you do that?" I started with an internet search on the organizing industry, and progressed to informational interviews with other professional organizers. I learned about the National Association of Professional Organizers, and looked up every organizer in their Colorado Chapter. Most of the organizers were solo-preneurs; Major Organizers was the only one hiring. I called, and the rest is history!
What is your funniest organizing story?
In August, we found a snake in our basement (to date, there have been 4 total).  After the first snake, I cleaned. After the 3rd, I called an exterminator. The exterminator told me to clear out my crawl space and install a proper vapor barrier. So now we have pulled everything out, and are in the midst of sorting through it all. What we found is that although everything is organized, the stored items are not current or useful anymore. In the long run, these snakes are helping me let go of things I no longer need, use or love!
What is something that your clients would be surprised to know about you?
I'm the Queen of Pop Culture! Ask me anything - I know everything about which celebrities have been married, who's divorced, and who has had babies and with whom.
What is your favorite "guilty pleasure" to relax?
My idea of a perfect evening is "The Bachelor" and a Chai Creme Frappuccino.
What is the best organizing tip you have learned from a coworker?
As an organizer, you are always learning new ways to think outside the box in terms of storage and space planning. A few years ago, I was working a kitchen organizing job with Mandy, and she created an organizing system for kitchen spices with all spices laying down in a drawer. I had never thought to do that before!
What do you like to do when you are not organizing?
I like sharing a great meal with family, whether it's barbecue around the fire pit or a casual crock pot meal. Now that it's autumn, I always make my favorite pumpkin stew, served in individual baked pumpkins. No matter what's on the menu, sitting around my family table with loved ones is the best place to be.
What is your biggest organizing challenge in your own home?
I am always sensitive of other's feelings when I organize at home. At work, we always stress that you can lead by example, but you cannot force anyone else to get organized, or make decisions on behalf of another family member without their consent. It is the same at home; I may have an idea for organizing, but I'm not going to do it if it is going to hurt someone's feelings or make them feel bad in any way.
What would you tell someone who is nervous about hiring an organizer for the first time? 
I've been through the death of a parent and a divorce. I've been through my children growing up and moving out. I really understand where people are in those stages of their lives and why they need help getting organized.
I am the luckiest to do what I do because my favorite thing is working with clients. I love seeing their smiles after we have organized their spaces!