On the Road
back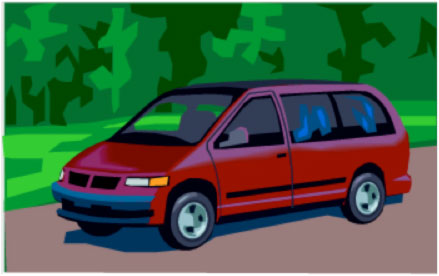 Have you ever taken a family road trip and once you got home you thought to yourself, "I will never do that again!!!!" 
Traveling with kids, especially long distance, can be trying at times. I have taken quite a few road trips alone with my two daughters. 
One of my most educational trips was when I decided to drive my two daughters, ages 1½ and 10 months, on a 3500-mile drive to visit family. I made sure my older daughter had her sippy cup, plenty of snacks, books, toys, and her blankie, all within easy reach for her. You would think I was well prepared--the kids have everything they could possibly need, right? Unfortunately, no. I did not plan for the less obvious situations that came up.
The bottomless sippy cup meant stopping every 45 minutes for restroom breaks. The snacks and books led to cleaning up throw-up...who would have known my daughter would be prone to carsickness! Too many toys was a threefold experience; they gave my toddler something to throw at her younger sister, led to her screaming for the toys that dropped on the floor, and with having toys in mass, she grew bored of them in a matter of minutes.
Hopefully you can take a few of my live-and-learn travel tips to help you plan ahead and make your trip a smooth ride for you and your family.
Limit what everyone drinks to keep bathroom breaks to a minimum.
Stagger toys and activities for the kids to keep their interest going and to avoid boredom.
Be creative with activities for car sick children. A favorite for younger kids is "I Spy." (One person spies something green and the others have to guess what it is).
A popular choice is portable DVD players. Make sure the children use headsets so you can talk or listen to music instead of having to listen to movie after movie on the long drive.
Plan ahead for the chance of a car sick child by having a kit of plastic bags, wipes, paper towels, and a change of clothes.
Have a first aid kit readily available and stocked with children's medicine...which is super hard to find at gas stations in the middle of nowhere!