Organize Your Closet
back
Do you know someone that is embarrased to have friends and family in their home because of the clutter and choas everyone will see? Would you like to help that person create a home they love and can enjoy? You can give them the Gift of Order and Serenity by purchasing a Major Mom Gift Certificate. Call us and we will mail your loved one a beautiful gift box with a gift certificate inside--866.693.6996!
BEFORE
HALLWAY CLOSET Bins for coats and winter accessories is not a user friendly way to access sets.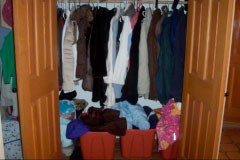 AFTER
Using over-the-door shoe hangers is a great way to organize hats, scarves and mittens for each family member.