Organize Your Linen Closet
back
Do your linens topple over on you every time you reach for a towel? Do you avoid changing the sheets on the beds because it takes 45 minutes to find all the pieces of the sheet set? What do your guests see when they open the door to the linen closet?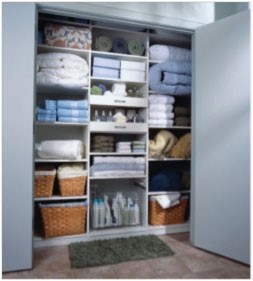 Image www.futurefashion.com 
 Sort Into Categories 
Remove everything from the closet.
Sort towels, blankets, sheet sets, table linens, etc.
Do a more detailed sort in each category:

Towels: Beach, everyday, holiday
Blankets: Heavy, lightweight, throws
Sheet sets: by person, season, or size
Table linens: Tablecloths, napkins, runners

Additional categories may include: formal linens, guest, seasonal/holiday
Treasure What Counts
If your closet is bursting at the seams you probably need to purge some of its contents!
Discard linens that are torn or stained
Donate sheets that don't properly fit beds
2-3 sets of sheets per bed and 3 sets of towels per person is advised
Establish Homes & Systems
Consider where items will live in the closet before you begin to put them back away.
Store bulky items up high
Place seasonal items in the back, up high, or in another location all together
Consider storing some items where they'll be used in the home:

Table linens in the dining room
Some, if not all, towels in the bathrooms
Sheet sets under beds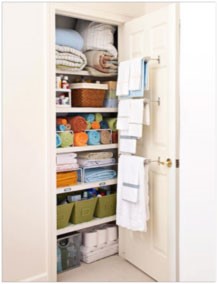 Image www.properhunt.com
Plan Your Container Strategy

Once you've decided where everything will live, decide how best to store your items so they stay organized.
Store sheets or blankets in the plastic bag they were in when purchased (if you are able to fold them to fit again!).
Keep sheet sets together by folding and storing them inside the matching pillow case.
Only use space saving bags if you use the vacuum function to remove the air. Otherwise, they will just take up more space.
Roll towels or fold them into thirds to maximize space on the shelf.
Use shelf dividers, wire organizers, or plastic bins to keep linens from falling over.
Label, label, label! Label all baskets, bins and shelves so you can easily find what you are looking for and quickly put things away.
Start New Habits
Any time you purchase new sheets or towels consider letting go of something old in the closet to make room for the new.
When putting away linens do not overfill the space. Doing so will cause problems later when you're trying to use something on that shelf.
Routinely toss and donate items that are no longer used and loved by your family.