Storing Memorabilia
back
Memories . . .they are a part of who we are. We take pictures of those special moments, we keep ticket stubs, maps, "A" papers our kids bring home . . . memories are important to us. We tell stories to each other about memories from our past not only verbally but through Facebook, Twitter and Instagram. The older we get the more memories we accumulate. How do we manage all those memories and memorabilia?
Major Mom understands the importance of memories. They should be honored and cared for. We also understand that memorabilia can overwhelm you and bring frustration and anxiety when you see the accumulation of it all. Here are some tips to help you get the joy back from those precious memories.
Set aside time weekly or daily to work on your memorabilia. (15 minutes to an hour)
Sort your pictures and memorabilia by decades, year, event or by child.
Remove duplicates of pictures, ticket stubs and programs.
When deciding which school work you should keep, hold on to the ones that show your child's milestone or growth.
Choose your storage method: Frame your memorabilia and pictures in a collage, scrapbook, or photo-safe storage boxes like the Creative Memories box featured in this newsletter.
Consider scanning your memorabilia or taking pictures of them and create a digital scrapbook that can be printed. They take up a lot less room than traditional scrapbooks. This will remove the overwhelming amount of memorabilia that you keep.
Take a picture of your children with their artwork surrounding them. I personally have four children who happen to all be artistically inclined. I just can't keep all of their creations- so we take pictures of them with their artwork and those pictures will be put in their scrapbooks.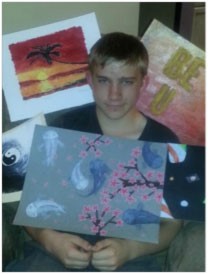 Create a space for storing your memorabilia that will keep it safe.
As new memorabilia comes in:
Ask yourself these questions: Do I need this to remember this event? Will this be important to me in 5 years, 20 years?
Place your pictures and items in your storage container.
Better yet, scan the item and store it digitally which creates less clutter.
When you are ready to take back your memories give Major Mom a call and your Liberator will be right there with you helping you honor those memories.